Self Indicating Balance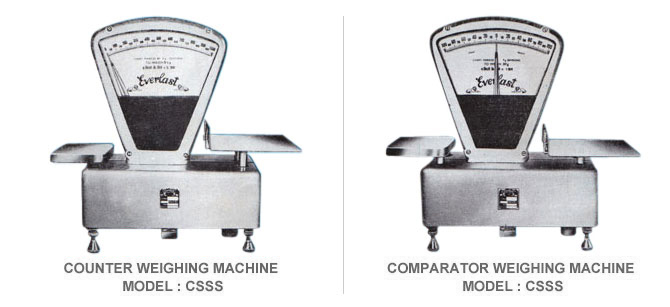 Everlast Semi-self indicating Counter Weghing Machines are manufactured with latest and tested technology and as per ISI specifications and those laid down by the department of Weight and Measues, Govermment of India. These are based on Levers, Knife-edges & Bearing System for durability, sensitivity and consistent accuracy, In other words the mechanism is not based on Ribbon and spring system.
The lever based Dial Counter Scales are suitable ofr quick and accrate weighing in retail shops and in numerous fields of industries
Model CSSS in capacity 10 kg. with 5gm graduation in very much suitable for sweat-meat shops and also for weighing letters and parcels. This model in capacity 1/3/5 kg having 0.5/1.0 gm graduation is ideal for weighing costly material accurately in Laboratories Model CSSC is specially recommended for packing and checking departments in industries.